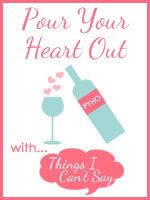 I decided to try something a bit different this Wednesday. I saw it last week over at
The Kir Corner
& thought it was a great idea! If you want to learn more about Pour Your Heart Out, check it out
here.
I want to try to breastfeed LP. There, I said it! I know it is taboo & can cause some uproar in the community, but I do not care! I have been doing research on different ways it can be possible & what it can take.
I have always been a huge fan of breastfeeding & just because I cannot have a biological child, that shouldn't be the reason I do not at least try that for both me & my child.
I am not saying I will do it, I am not saying I will be able to do it, but I sure want to try. And you know what else?! If I can't breastfeed, I am thinking about milk sharing so LP can get breast milk if I am unable to provide it.
My DH & I both feel strongly about how much better this is for a child, but we also know it may not be possible. It's worth a shot though & we do not care what people may think!